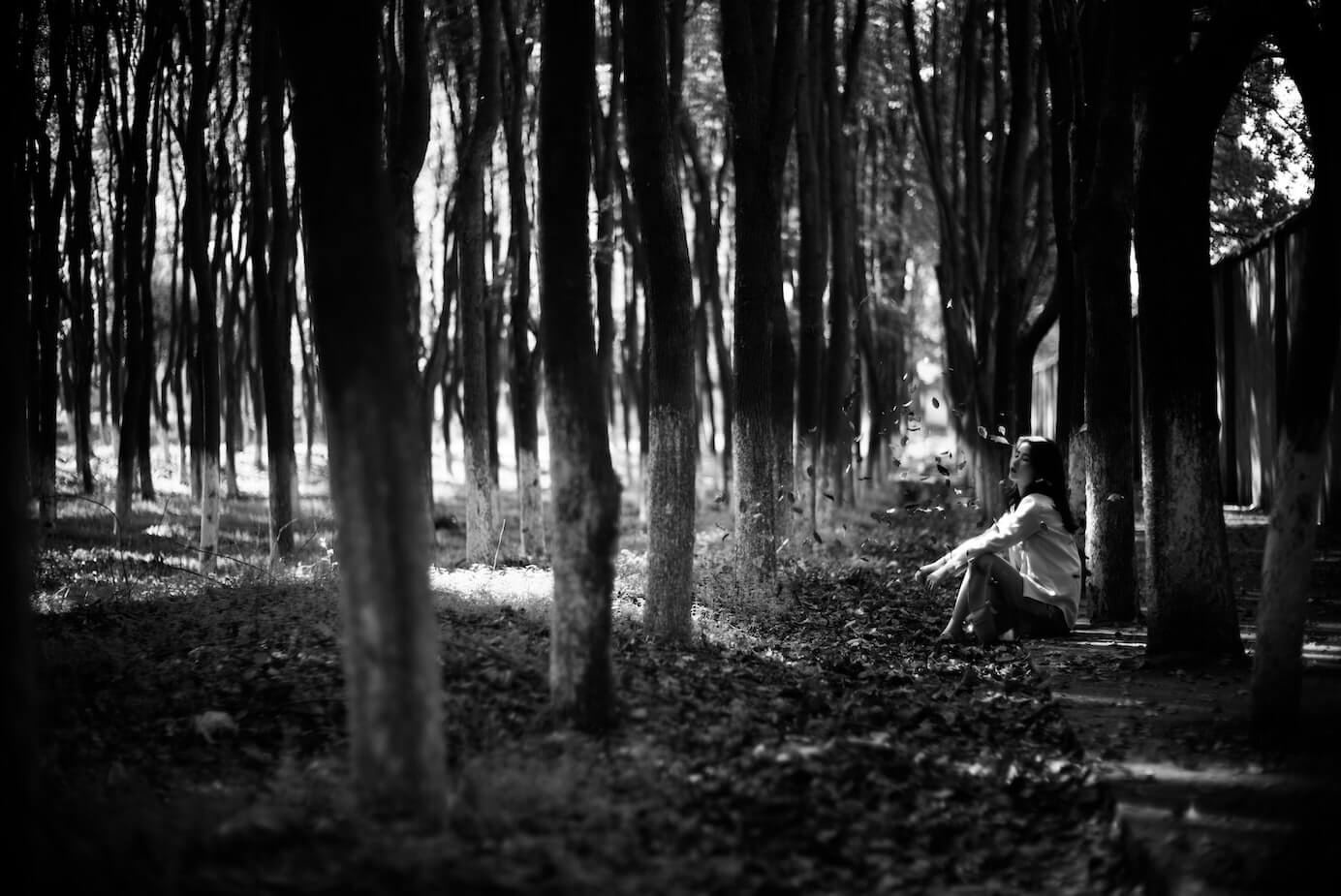 How to use email finders with 5 data sources to generate the best leads
Finding leads used to be a difficult task. That's changed over the last couple of years with the rapid rise of email finding tools and multiple data sources. Surprisingly, not everyone knows about them, how they work and how best to use them. I'm going to run through the options with brutal honesty :)
What types of emails are there. Can you trust them?
You're going to get 3 different kinds of emails from email finders.
1. Server verified emails.
Overview
Server verified emails do not sit in a database. You enter in a name and website e.g. John Smith, Airbnb.com and the email finder forms an email, John.Smith@airbnb.com or j.smith@airbnb.com and checks it against their mail records directly. If it comes back with OK, then that email does exist.
Good points
Excellent delivery rate as it's a direct and fresh check.
Bad points
Not every server allows this. 1 in 5 is the average.
Delivery rate: 97%+
2. Scraped emails.
Overview
Scraped emails are when the company went to every website on the planet and searched for places where people posted their email e.g the 'contact us' page.
Good points
It means you don't need a name to find emails for a website. You enter in just the website and the email finder will return whichever emails it has for that website.
Bad points
Lower delivery rate. It's not targeted so you don't necessarily know the name of the person. An email posted on a forum in 2012 may not be valid now.
Delivery rate: 75%
3. Pattern guessed emails.
Overview
The company took a list of existing emails e.g. j.smith@airbnb.com, m.jones@airbnb.com and guessed that Richard Webster's emails would be r.webster@airbnb.com
Good points
When an email cannot be verified or scraped then taking a guess can be useful especially if that company has a consistent pattern. Some companies like Goldmansachs have 99% of their emails in the same pattern.
Bad points
Really bad delivery rate though there are exceptions as you'll see below.
Delivery rate: 30%
What are some common features that email finding companies have
Single search
Yup, you enter in a single name and website (or just the website) and it goes off looking for an email either by directly pinging the server, from a scraped database or by pattern guessing it. If you enter in just the domain they will try and return all emails they have for that domain from their database.
Bulk upload
Same thing as single search but you can upload 10,000s of names/websites in a csv file in one go and download the results later.
API
For the techies. Most companies have an API to let you directly query and extract data the same way as the single search, often for integration into their own tools.
You can learn how a web scraping API works by taking a Python online course.
Chrome Extension
A chrome extension that lets you find emails while you're browsing the web or on specific sites. Some extensions work on Linkedin but be warned, Linkedin is shutting them down with a vengeance.
Some email finding companies and what they do
Yeah we're going to cover our own service but we'll also show you how some other tools can be better and in which area.
Overview
Anymailfinder provides server verified emails, scraped emails and pattern guessed emails. The features include single search, bulk upload and an API.
Good points
We only charge a credit for a verified emails and that's the main strong point. Also, we added 10 million+ high quality patterns for larger companies recently, so the pattern guessed delivery rate should go to around 70%.
Bad points
Does not have a big scraped email database. Anymailfinder does not run regular scrapes so is nowhere near as big in this department as Hunter.io. Also, Anymailfinder.com shut down it's Linkedin extension. Well who wants that damned headache anyway right? Not us!
Overview
Hunter's a competitor of ours but you know what, they're damn good. It's got a huge database and primarily focuses on scraped emails. This means, if you upload a domain, they'll find a lot of emails for that domain.
Good points
Huge database of scraped emails as this is where they specialise. They are very good for domain only queries. If you don't have any names and want to find as many emails from a company as possible then Hunter is a good bet. While we find domain only queries too, when a client asks for emails from very small businesses, I point them to Hunter as I know they'll do a better job.
Bad points
Hunter charges for all emails found, whether they are verified or not. This means they will have a bounce rate of anything up to 50%. You have to pay an extra credit to get the email verified whereas Anymailfinder only charges for verified emails. It's a toss up between us. I see customers go back and forth. In short, if you have both the name and domain, use Anymailfinder, if you have just the domain then use Hunter. For our next campaign we'll use both.
Features available: Single search, bulk upload, API, extension.
Others
Some other tools out there: VoilaNorbert.com, Toofr.com, rocketreach.co,
VoilaNorbert.com is similar to Anymailfinder.com and has a nice interface. They specifically focus on server pinged emails but don't do scraped emails. Rocketreach.co does something interesting, they appear to find Linkedin data and to me it looks like their software sits on a Google search which filters only the Linkedin results. However, they are expensive and if you want to a cheaper way of doing that then try this. They probably need to watch out for the Linkedin backlash but we'll see.
How do you generate 1000s of leads using email finders? You find data sources that contain names and domains.
This section deserves to be bigger than the email finders. There are plenty of email finders out there so the problem right now is finding the right names and domains to feed into them to turn into emails.
Below are a list of popular methods for getting data.
1. Followerwonk
Followerwonk is a tool that lets you analyze and download data from Twitter. How do you use it to get 2000 leads in 1 hour?
Ask yourself 'which twitter account are my target users likely to follow?'
Example: If you sell rental insurance then AirBnB followers are likely to be interested in insurance for homes they rent.
You can download 10,000s of those followers into a file using Followerwonk.com and upload that file to Anymailfinder or Hunter to get their emails (for those that have a legitimate business domain).
The best part, it gives you an easy subject header: 'I saw that you follow AirBnB on Twitter'.
Alternative to Followerwonk? ScoutZen.com which lets you download potentially 1 million records per account and has a free version that lets you test out 1,000 at a time.
2. Buzzsumo
Buzzsumo, similar to Followerwonk, lets you download up to 10,000 rows of twitter data but specifically lets you download all the people who shared a tweet.
Search on BuzzSumo.com for a tweet being shared that relates to your product. If you were selling house insurance then you might look for all the people who shared 'Top AirBnB rental tips'.
Download the file containing those people who shared that tweet and some of them will contain the name and domain. Upload that to the email finder.
Your email subject header is made in heaven "I saw that you tweeted…"
3. Crunchbase
Crunchbase did previously let you download their entire dataset of 100,000s of companies including the name of the founder and the domain. There is a sign up process to get that dataset. However, you can instead purchase Crunchbase Pro that also lets you see who was recently funded and download their data.
4. Builtwith
This is a monster. A real frikkin monster. It's like being able to do a google search and download all the data but it filters out the crap and leaves you with the companies.
The Builtwith files contain names, job titles, emails, social accounts, how much they spend, what tech they use, where they are and more. It's the nuts.
This is an example screen shot of a file downloaded and part of what it includes:

There are different type of tools within Builtwith.
Builtwith Tech search: Pick a technology e.g. Google analytics and download all the domains with Google analytics in it. Builtwith lets you download up to 250,000 rows of data per file.
Builtwith Keywords: Search for e.g. Dentist, new york and it will filter out all the domains with those keywords on them. This is the bit that really is like downloading google searches and stripping out the useless stuff.
Builtwith Keyword lists: Similar to keywords above but pre-built lists so you don't have to figure things out yourself.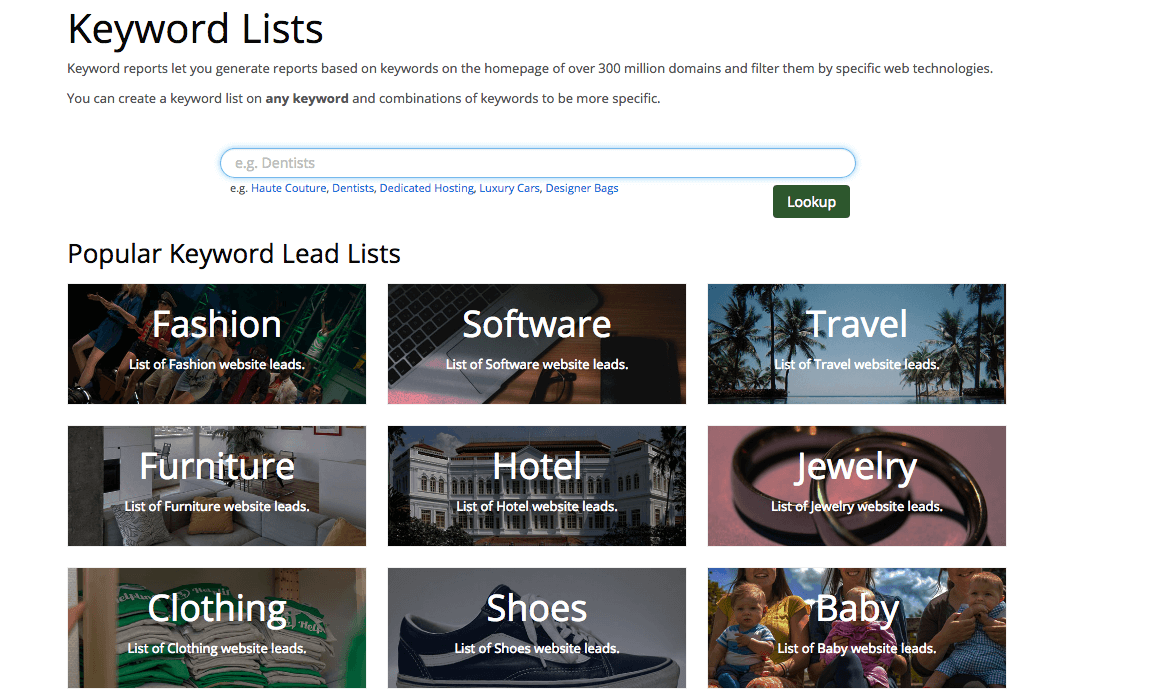 Builtwith pre-built reports: If you want to get a list of all the 'US companies funded between $1m and $2m' then Builtwith has pre-built reports for them.
Builtwith leadseye — You have to see this shit to believe it. You choose your list of domains (or upload one) and they go and take a screenshot of every site. Then, you can click through them all quickly, see tech data on each one and dump them or add them to a leads list.
We were going to try Datanyze but they wanted us to sign up to a yearly plan to download data so we paid $495 for unlimited downloads for one month from Builtwith. Best Thing Ever Dot Com.
5. Dux-soup
The chrome extension Dux-Soup searches on google for a job title and location and gives you the results which you can upload to Anymail finder to get the emails.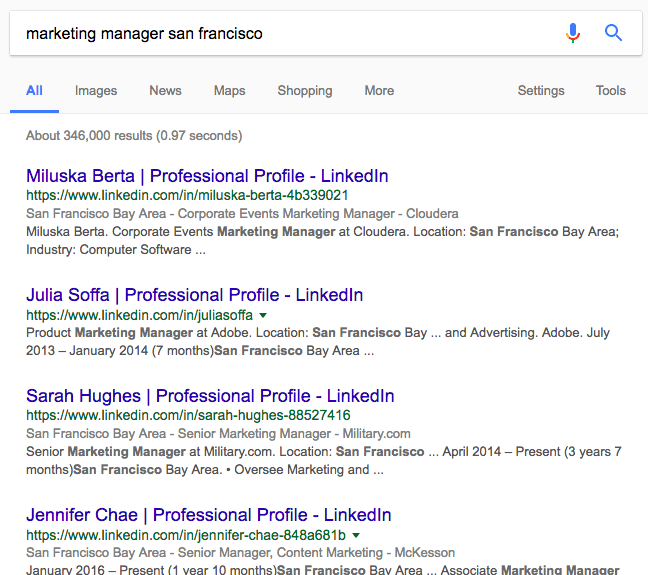 Steps
Click the extension button and choose the 'X-ray' option to run your search
Download the results into a csv file and upload that to Anymailfinder.
Here is a video summary of the process:
You don't even need to add a location. You can vary the search by entering e.g. 'marketing manager AirbnB' and just find people at that company.
Try different variations and it'll open your mind to all that's possible with this.
What do you have when finished?
A file containing lots of people who are listed on Linkedin and for each person you'll have their name, Linkedin profile link, country, industry, job title and more information + the verified email address when we find it.
The free version allows us to download rows of data, though there might be limits we have not yet discovered. The paid version is only $15 per month. Note that Linkedin will limit how many profiles you can view a day, get their premium account for more.
Once you have the leads, here's how to handle sales objections
When it comes to demos, onboarding, cold calling or even calling warm leads, you're going to run into sales objections.
At that point you need an app that helps you keep the client awake and focused. Use HelloScreen to handle sales objections by instantly sharing your tab and having them interact with the page.