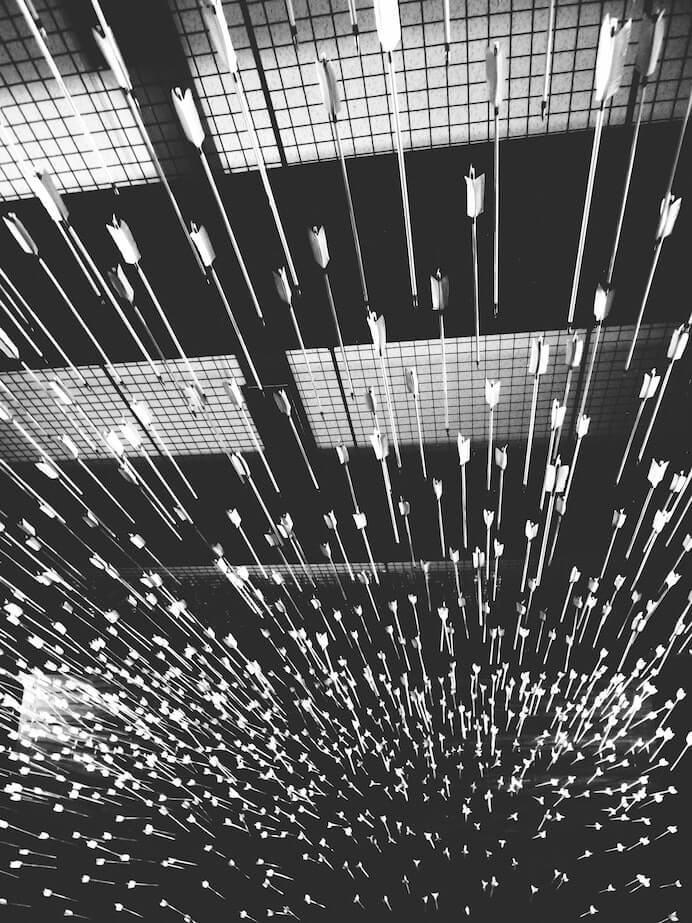 2000 great leads in one hour
One of the most popular methods for rapidly generating 2,000+ leads using Anymailfinder has been via BirdSongAnalytics, FollowerWonk or ScoutZen and more recently you can get fewer but more focused 'job title' leads via the Dux-soup. Below is the rapid 'how to' summary of each.
How do I get 2000 leads in 1 hour?
Ask yourself 'which twitter account are my target users likely to follow?'.
Example: If you sell rental insurance then AirBnB followers are likely to be interested in insurance for homes they rent.
You can download 50,000 of those followers into a file using Followerwonk.com and upload that file to Anymailfinder to get their emails.
The best part? Email them with a subject header like 'I saw that you follow AirBnB on Twitter' and you'll get their attention.
(see an even more advanced way to get the best subject lines for email)
Key advice: You can also search for a keyword like 'real estate' in the profile search section. You can be really smart by seeing if they follow more than one account e.g. if they follow @Airbnb and @propertyRenting, it tells you they have a strong interest in property. Followerwonk has that feature.
Step 1: Run a search on FollowerWonk or Scoutzen and download all profiles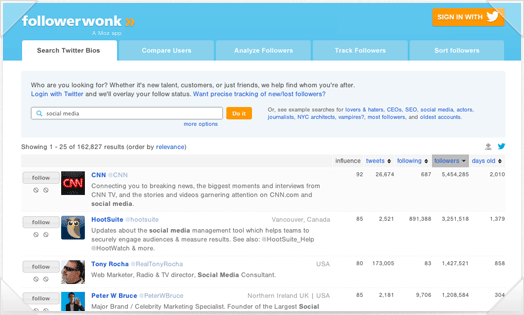 This is where you put your brain into action.
Who would your ideal customers follow on Twitter?
If you sell rental insurance and they are likely to be following Airbnb, enter that.
**Want to send them a unique subject header? Find 3 PEOPLE they follow. **
If there are 3 popular people in your industry like e.g. Naval, Jason Lemkin, Jason Calcanis then they are likely to have 10,000s of people who follow all three of them.
Use the Followerwonk compare function to enter their twitter accounts and download a list of people who follow all three.
Then you can upload that to Anymail finder to find emails and send them an email saying "I saw that you follow Naval, Jason Lemkin and Calcanis on twitter..." That's an attention grabbing subject header.
Alternatives to Followerwonk? Try ScoutZen for a solid free test.
You can also use ScoutZen for larger numbers of downloads per account.
Below is a video of the ScoutZen process. On their paid plans you can download up to 1 million records per account though we have not tried this yet. It probably can't be done in an hour!
Step 2: Upload to Anymailfinder and it'll return the profiles with emails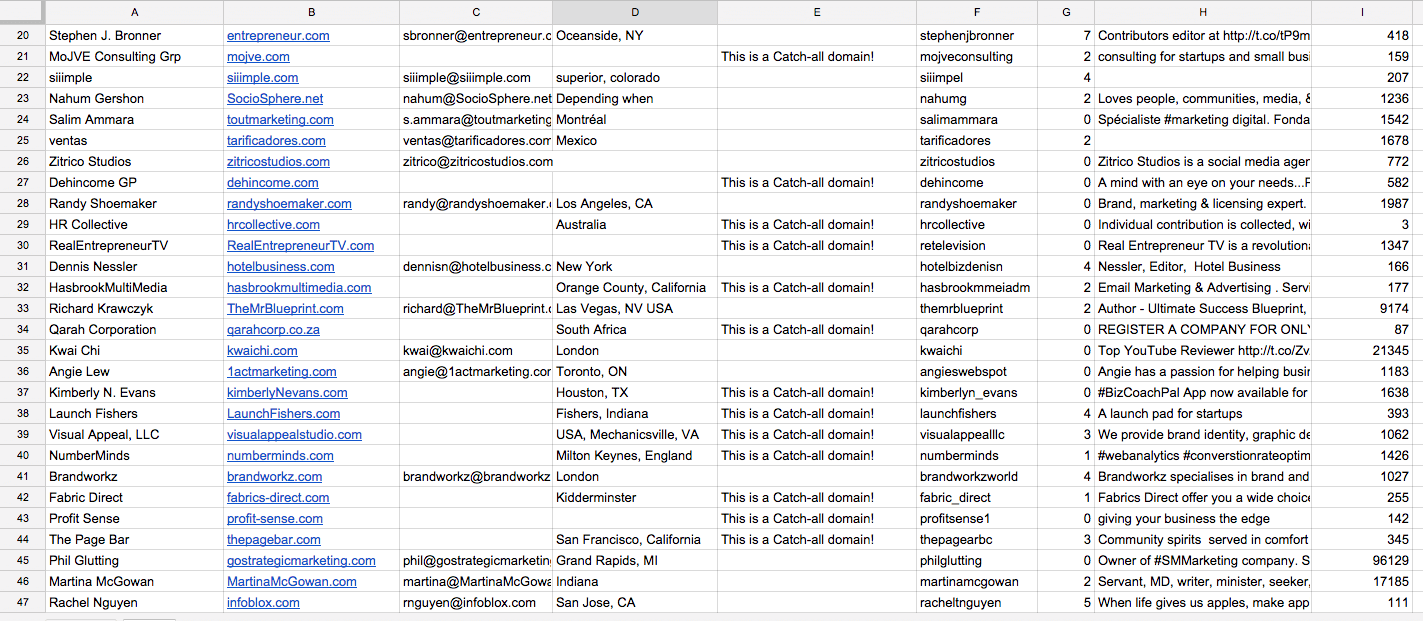 Why does this process work?
We need the name and domain to find and validate an email. The downloaded file contains the name and domain for 'some' of the rows and on average you can generate 2,000 emails from 50,000 rows depending on how many have listed their company website.
What reaction will you get
Having tried this ourselves, telling them that you found them via who they follow shows that you've qualified them. If you have chosen the right people and the email is relevant to their needs then it's a powerful technique.
This is an email we got back from one client (not all emails are this nice but when it's qualified and relevant, it works well)
Hi Pardeep,
Normally I hate speculative emails, but thank heaven this appears to not be spam, to be relevant and possibly useful.
Thanks for explaining how you found and qualified me.
Interesting.
Thanks
Kim
In fact, out of 2,000 emails we sent to business development people (Ok, 1,500 as the first 500 had a big url error and so the stats are off), there were many good immediate responses and only 2 complaints. We can see that they're still opening the emails weeks later (I guess they opened it and told themselves they'll come back to it later? They use their gmail as a google search box? Who knows).
Can I google for 'marketing managers in San Francisco' and get their emails?
Yes you can and it's insanely powerful.
The chrome extension Dux-Soup searches on google for a job title and location and gives you the results which you can upload to Anymail finder to get the emails.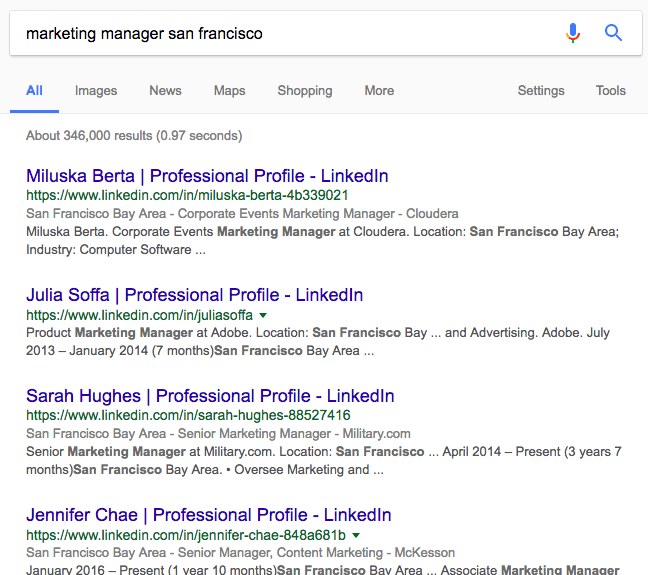 Steps
Click the extension button and choose the 'X-ray' option to run your search
Download the results into a csv file and upload that to Anymailfinder.
Here is a video summary of the process:
You don't even need to add a location. You can vary the search by entering e.g. 'marketing manager AirbnB' and just find people at that company. Try different variations and it'll open your mind to all that's possible with this.
What do you have when finished? A file containing lots of people who are listed on Linkedin and for each person you'll have their name, Linkedin profile link, country, industry, job title and more information + the verified email address when we find it.
The free version allows us to download rows of data, though there might be limits we have not yet discovered. The paid version is only $15 per month. Note that Linkedin will limit how many profiles you can view a day, get their premium account for more.
The biggest mistake we made?
We failed to do follow ups on people that did not reply. When we get cold emails, even if they are relevant and important, we have little time to really read through and understand them, so most go ignored. Follow up emails solve that so read this interview with a follow up email company for a good overview.
Want to know what people think when you send them follow up emails and why they work? Read this https://anymailfinder.com/blog/if-you-sent-follow-up-emails-to-the-rock-637ec1fadf23